Ocean Cay
Bahamas dream destination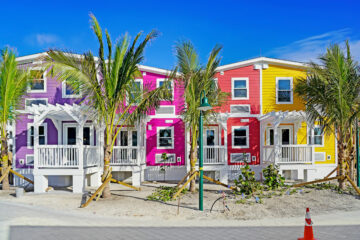 Americaribe has transformed a former industrial sand-mining site into MSC's Bahamian private island called "Ocean Cay MSC Marine Reserve".  Located at 104km to the east of Miami, Florida, the $124 million contract was signed in May 2018.  
In keeping with Bahamian-style architecture, the 12,500-m2 total surface area's redevelopment include a full landscaping plan, an arrivals centre, several restaurants, bars, and shops as well as an exclusive spa combining to make a total of 107 buildings, most of which is in wood. More than 77,000 Caribbean trees, plants, flowers, and bushes are planted on the island, which also include 3.5 km of beaches.  
The buildings are powered by 3* generators, with a total production of 750 kW, and solar energy, providing 300 kW. As well as a wastewater treatment plant with a 400-m3 daily capacity and a reverse osmosis system that produce grey water for irrigation. And a plan for a domestic and fire reservoir with a 640-m3 capacity.  
More than a simple island, Ocean Cay is the Bahamas dream destination that will offer MSC cruise passengers an exclusive Caribbean destination.