Modular Construction: the Miami High-Rise Expo
A look into one of this era's several innovative 'new technologies'.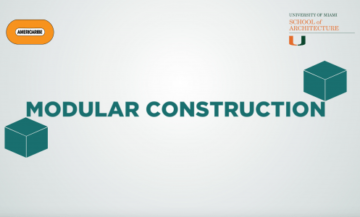 At one point in our lives, we've all come across playing with a Lego set (or Mega Blocks).  The simplistic convention of the toy can open a lens where you can build brick upon brick, as high as a tower. Or, neatly stack them into a cube of perfect size.  If the pieces matched, then the process of building was quick and efficient.  Imagine applying that imagination to a realistic perspective, real buildings.  Moving forward with the innovation of new technologies in contribution to the Miami High-Rise Expo, we move our focus onto the subject known as 'Modular Construction'.  The Lego approach to construction.
To recap the explanation the promo video showcased, Modular Construction, also known as 'prefabricated prefinished volumetric construction', or PPVC, consists of constructing modules. Modules are sectional prefabricated buildings manufactured off-site in a warehouse or plant.  The units are then transported to the on-site location in one or more complete sections to be placed onto the building via crane.  The manufacturing of modular construction uses an inside-out approach as opposed to a traditional construction's 'outside-in' approach.
While the use of materials has a high variety, manufacturers tend to focus on a particular type to maximize factory efficiencies.  This choice is usually correlated with project demands. An example of this is the Crown Plaza's (showcased in the modular construction video) main material being steel for the modular containers.
Most Architects, like the one in the promo video, use BIM (Building Information Modeling) to enhance the Design process.  BIM is an intelligent 3D model-based process that gives architecture, engineering, and construction (AEC) professionals the insight and tools to more efficiently plan, design, construct, and manage buildings and infrastructure.
With the rise of modular construction came along its advantages through its innovative methods.  These advantages include:
·      Shorter construction time: modular eliminates bottleneck and site-related delays.  It decreases design and construction time by up to 50%, as well as contract to occupancy can be as much as 60% less than conventional site built construction.
Reduced site disruption: because of construction mostly taking place off-site and in a factory, things like small zones and weather conditions are mostly avoided, reducing disruption.  It allows Owners to work around the challenges associated with the lack of skilled construction labor.
More consistent quality:  Quality control is built into every step of the modular building process. Each component is inspected at every phase and approved by third-party inspectors. Streamlined scheduling, trade coordination and construction sequences optimize quality control on the jobsite. Universal Modular provides the benefits of standardization and quality control of all product components and installation labor.
Flexible usage/portability
The advantage of higher productivity can also create an effect of ensuring workers a higher income.  Companies like Blueprint Robotics are able to pay their workers an average of $50 to $100 per hour, according to a Bloomberg article written by Prashant Gopal and Heather Perlberg.  With wages like these, "companies like Blueprint are actually helping to ease a labor shortage that has crimped construction of residences and commercial properties across the country. The plants enable developers to fill the gap by having houses and apartment buildings manufactured off-site, for less [off-site expenses] and in a fraction of the time".
Many modular project teams said they choose modular construction, according to IPAGlobal, by means of improving labor productivity by moving construction to a shop (49 percent).  Project teams also cited the ability to duplicate multiple installations of similar design at the fabrication yard as a means of cost containment (32 percent).  Other reasons they gave included alleviating local labor availability issues (29 percent), and overcoming congested site conditions (29 percent).
As a real-world example to apply the effectiveness of Modular Construction, we can examine the model/case study used in our modular construction video:  The Crowne Plaza hotel.  Constructed near the Singapore Changi Airport Terminal 3, the 10-story high hotel expansion consisting of 243 rooms was completed in 26 days, taking about 3 to 4 days to erect a single floor. A whole month is all it took to construct something of this size with modular construction.  As for the manufacturing period that took place in Beijing, China, it took 6 months to manufacture the 252 modules used.  The entire cost estimated to approximately $12.8 million USD, which as mentioned before, depending on a number of variables can be advantageous, or disadvantageous.  But the use of the method slashed manpower requirements on site by as much as 45%, reduced overall construction time by 17%, and accomplished both of these with about 40% in manpower savings.
But while modular construction has noticeable advantages, it does come with its disadvantages like any other new technology.  These disadvantages include:
Limited customization: Modular buildings usually will not be able to deliver a completely original design.  There is a variety on the customization of design templates, but they have their limits on changes to the shape or look that can be seen as dramatic.
Limited service area: Logistics costs increase with distance, so does the shipping time.
Zoning Rules: While it's been a few years, modular construction is still gaining traction in popularity.  While local zoning boards are becoming better informed about modular buildings, zoning rules also need to evolve to reflect this trend.
Construction process:  Due to the different construction process (inside-out), the industry need to adjust to this new process which is more industrial and less traditional.
While cost is also seen as an advantage, it can also be seen as a disadvantage, or rather more of a challenge.  Measuring the cost of modular vs traditional is trickier than it seems.  Cost is based on a per-unit basis, with the savings running from minimal to millions of dollars based on the building type, design, location, presentation, and amenities.  Areas with high labor costs are also seen as the one with the highest savings due to the efficiency of modular construction.
A lot of the disadvantages seem to be able to be dissuaded over time through adaptability.  At the 2016 Building Innovation Panel, National Development Minister Lawrence Wong said: "With greater adoption of PPVC and new technologies, the cost differential will come down. As mentioned in the briefing, the premium is due to prototyping, but with more repetitive adoption, with greater economies of scale, the cost will come down and technologies like PPVC will eventually become very economic, even without the grants".  Among just the costs, there will be more changes within things like zoning rules, and architects/builders becoming more aware of the process.  Modular Construction is something to keep an eye out for in the future, as it rises to become a major trend in the global construction industry.
Sources
–       https://www.bloomberg.com/news/articles/2017-04-17/robots-may-help-build-your-next-home-and-solve-a-labor-shortage
–       https://en.wikipedia.org/wiki/Modular_building
–       https://www.hvs.com/article/8010-modular-construction-an-evolution-in-the-development-of-modern-hotels#_ftnref1
–       https://bonestructure.ca/en/articles/modern-modular-home-6-advantages-disadvantages/
–       http://www.modulartoday.com/pros-cons.html
–       http://c.ymcdn.com/sites/www.nibs.org/resource/resmgr/OSCC/OSMC_Explained.pdf
–       http://www.umodular.com/about/modular-buildings/
–       https://www.autodesk.com/solutions/bim
–       https://www.bdcnetwork.com/it-only-took-26-days-complete-construction-crowne-plaza-changi-airport-hotel-extension
–       http://www.todayonline.com/singapore/extension-crowne-plaza-changi-airport-slated-completion-june
–       http://www.prefabmarket.com/space-age-modular-hotel/
–       http://www.ipaglobal.com/the-lure-of-modular-construction-assessing-the-advantages-and-risks