Event – Construction Innovation Cocktail Reception
A few years, and a fine time to kick off a recap of Americaribe's FIRST event.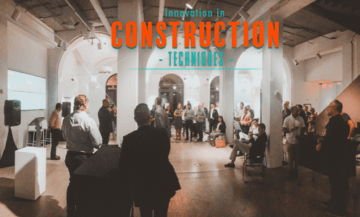 Hello all! We hope everyone had a Happy New Year and is kicking off 2018 astoundingly.
Last year, we mentioned in bits and pieces via different articles about our collaboration with University of Miami's School of Architecture, through sponsorship, with the High-Rise Expo.  To summarize briefly, the High-Rise Expo focused on prominent Miami high-rise architecture and its evolution throughout the years, utilizing a timeline, AR technology, and videos showcasing new, innovative technologies.  A website was also created for the exhibition with these resources (plus some contributed articles), linked as miamihighrise.org.
Alas, our sponsor event in collaboration with UM SoA's High-Rise Exhibition finally commenced!
Taking place on the evening of December 7th at the Miami Center for Architecture and Design, the private cocktail reception had a very positive turnout of attendees – a mix of Americaribe's employees and other architects/designers from other companies – got to enjoy catering and the exhibition space that included infographics of certain Miami High-Rise architecture, alongside AR-viewings of the existing 3D print models.  At around the peak of the evening was a presentation spoken by Rodolphe El-Khoury (Dean of the UM SoA), Eric Firley (Curator of the High-Rise Exhibit), Jean-Baptiste Baudin De La Valette (President of Americaribe), and Christophe Bilaine (Vice President of Americaribe), centered on the innovation in construction techniques.  Some of the team celebrated afterwards, enjoying the art on the 2nd and 3rd floors in midst of ArtBasel week.
Working on this event, from creating videos to in-depth articles, has been a wonderful experience for us, and although there were minor but few technical diffficulties, we are happy with the outcome of our first event.  Based on this, we would like to continue further with organizing additional Americaribe events in the future.
Stay tuned for what's to come in 2018, with not only any events but project updates, case studies, and more.